Functions
We love hosting parties and large group dinners.
Happy Boy is perfect for large celebrations and events - we take the stress out of organising and can guarantee all your guests will have a great time.
With a seated capacity of up to 140 guests and access to outdoor dining and our other East Street venues we can cater for nearly any type of function... Not to mention our chef's banquet is bespoke for every table so we can work with nearly any dietary requirement you throw at us.
For groups of 35 guests and under, you can book here. For anything special, eg. weddings, engagements, partial/whole venue functions, please fill out the form below. The more information you can enter, the more detailed a response we will be able to give you. Once completed we will get back to you ASAP.
For last-minute enquiries please give us a call on 0413 246 890.
An East Street Restaurant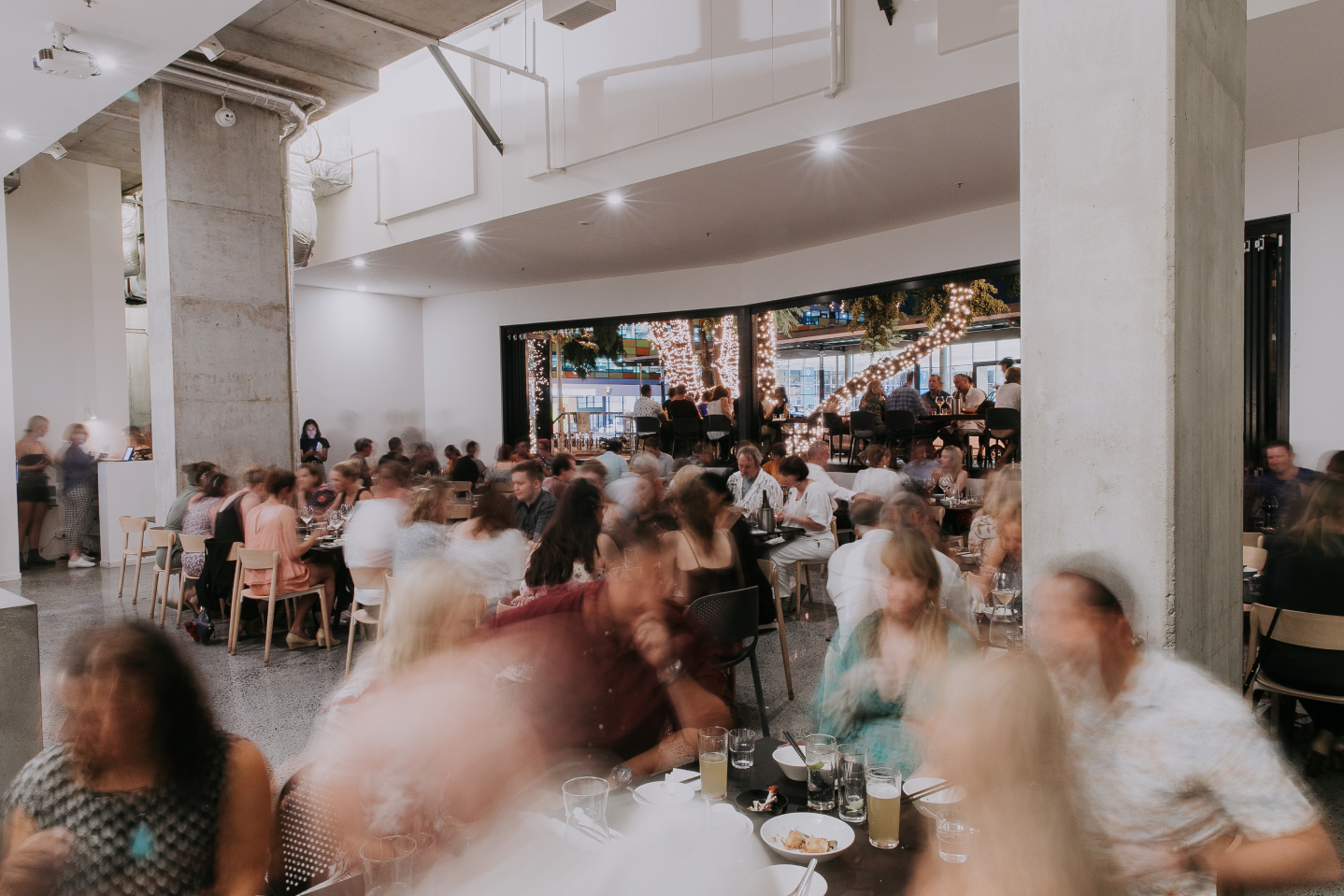 FAQs
DINNERS (open — last orders)

Tuesday to Wednesday - 5:30pm till 8:30pm
Thursday to Friday - 5:30pm till 9:30pm
Saturday - 5:00pm till 9:30pm
Sunday - 5:00pm till 8:30pm

LUNCHES
Tuesday to Sunday - 11:30am till last orders at 2:00pm

Happy Boy serves Chinese food alongside the best small producer Australian wine. Our chefs focus on wok cooking and the art of Chinese BBQ. We cook mostly Cantonese style but do have some spicier dishes for those who enjoy chilli.

Our main dining hall has 100 seats in a spacious room with very high ceilings dominated by concrete and clean white lines. We also have room for about 40 people on our outside deck under fairy lights.

Expect casual, friendly and knowledgeable service - we love what we do and most of all love to share our food and wine with our customers.


On East street under fairy-lit trees. East Street is the continuation of James street as you cross over Ann street, heading towards the Valley pool. Keep a lookout for the six trees lit up with fairy lights and our neighbours Kid Curry and Snack Man.

No. We are fully licensed and specialise in small producer Australian wine.

Yes, within reason. At busy times we ask you to have patience and do your best to make it easy for us to split - i.e. split evenly across the table or choose an amount you have calculated per person - splitting by item is not feasible at busy times. For big groups wanting to split we suggest buying drinks at the bar and bringing in correct change to pay for your food.

If you would like to sit outside, please note it in your booking comments, but we cannot guarantee that we will be able to accommodate. We don't take bookings for the deck as it is not covered or heated, and we can't predict the weather. If your table is particularly worried about noise or Happy Boy being too busy, we have more private tables in Snack Man with a similar but unique Chinese menu.

We are taking a prepayment of $200 for all bookings of ten or more guests. This prepayment allows us to secure your spot in the restaurant. This is a prepayment, not a booking fee, and will come off your dinner bill as a dollar discount. The prepayment is non-refundable, but in the event of a lockdown or a change in restrictions, we would of course rebook or work with you to find a solution. 

We take credit card details for all smaller bookings and only charge in the event of a last-minute cancellation (within 48 hours of your booking) or no show. Our late cancellation/no show fee is $45 per person.

Due to high demand, we offer two sittings at night. Two and three person tables are allocated 90 minutes, while groups of four and above have two hours. We can always find your group space in Snack Man next door to kick on, or have a pre drink if you like.

Yes, Happy Boy is perfect for your next function or party. The fact our restaurant is large and our menu is loved by so many (and can cater for a wide range of dietaries) means organising a large dinner is simple at Happy Boy.

For any group of 10 or above, we require you to partake in our Chef's Banquet (see below). You can reserve your spot online simply by heading to our bookings page.

For very large groups or private functions, please fill out our function request form, and we will get back to you within two working days with some options - if you are looking to book within the next 1-2 working days, please give us a call.

We have a $49pp chef's banquet, which includes an array of our favourite dishes matched to your table's preferences and dietary requirements. It will include a selection of entrees, mains and fried rice - it is very generous, and we can guarantee no one will walk away hungry.

NB. The Chef varies the banquet for every table - WE DO NOT HAVE A SET BANQUET MENU. We do this because every table is different, and we pride ourselves on catering for your particular preferences and requirements.

NB. You can always request one or two favourites, and the chefs will take this into account when creating your banquet - however, some requests may not be possible on the night.

Young children are welcome to partake in the banquet too - we offer a half-price version for little ones who are 10 and under.

Yes, we ask that all groups of 15 or more partake in the banquet menu. If you are less than 15, you are welcome to send in a pre-order on the day of your booking. Please email your order to [email protected]. 

Yes. We take dietary requirements seriously. Gluten free, vegetarian and vegan are all part of our standard menu but we can cater for nearly all requirements if you give us notice. The kitchen does contain allergens so let us know if you have a serious allergic reaction to anything.

Yes. We charge a $2 per person cakeage fee and ask you to still keep your sitting time.

Being so close to James Street and The Valley, there are so many options for a drink before or after dinner. That said our neighbour Snack Man specialises in amazing European wine and classic cocktails. They have a large outdoor area and also lots of spots inside. For large groups we'd suggest making a note on your booking to flag you'd like space before or after dinner. We can coordinate with the team at Snack Man and make that happen for you. They also do a simple but great dessert menu including deep fried ice cream and home-made Macanese custard tarts.

East, Bridge and Church Streets have lots of street parking. Ann and Wickham Streets have even more but watch out for clearways on weekdays till ~7pm, and parking meters until 10pm. There are paid secure parking garages under the Calile Hotel and at the M&A building, both within walking distance of East Street.

Yes, we do… we love hosting parties and large group dinners. The fact you love our restaurants enough to choose us for a special occasion is fantastic but the fact you are introducing lots of new potential customers to your favourite spot is even better.

Between the three venues along East street and the adjoining outdoor areas, we can accommodate just about any type of function or large group eg. Snack Man is great for groups up to 100 (stand-up/canape style), while Kid Curry is perfect for a more intimate, seated event. Happy Boy is loved for a long table dinner for a special occasion. We've even done a range of wedding receptions at Snack Man and Happy Boy. 

If you are interested please fill out the form and we will get back to you within 1-2 business days.

Yes we do, just order here and we will have it ready asap. In quieter services, it will take about 15minutes to prepare your order but at busy times it may take us up to 30mins.